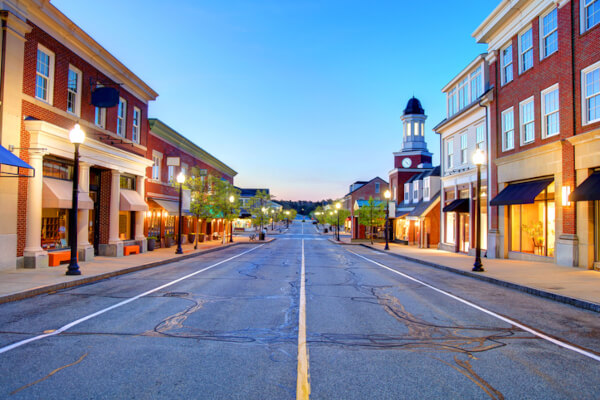 When the pandemic descended on the U.S., there's a reason why people left the coasts and major cities in droves for cute small towns across the country. Not only are there beautiful small towns in America that simply can't be beat, but their costs of living are generally much more affordable to boot.
Have you been on the hunt for the most beautiful small towns in America for a while but haven't quite found what you're looking for? Perhaps you've just now joined the remote working world and are looking for a new place to call home. Whatever the reason, we've done our research on the best towns in the U.S. After scouring sources from Architectural Digest to Condé Nast Traveler and much in between, here are some of the most scenic small towns in the United States.
(We have to say that we happen to think they're some of the most beautiful places to live in the U.S. regardless of size, but their small-town charm is an undeniably enchanting draw.)
1. Taos, New Mexico
With a population hovering just under 6,000 people, Taos is both a mountain town and a high desert town in one. Skiers and snowboarders from across the country pass through the small town in the winter while artists, musicians, sculptors, and writers hold down the fort year-round. Oh, it's also home to the Taos Pueblo, a UNESCO World Heritage site. Talk about charming small towns in America!
2. Savannah, Georgia
While Savannah is one of the larger towns on this list with a population of just under 150,000, it still has a small-town southern charm to it. Plus, it's home to the Savannah College of Art and Design as well as other galleries that make it a favorite destination of art lovers.
3. Cannon Beach, Oregon
Home to just over 1,500 residents, Cannon Beach is just 80 miles northwest of Portland. The town's namesake beach is known for Haystack Rock, a massive 235-foot protrusion from the water that can be seen from Ecola State Park nearby. Outside of the natural beauty of this scenic small town, residents enjoy numerous chocolate chops, art galleries, breweries, and more.
4. Sitka, Alaska
Salmon lovers, this is one of the best towns in the United States for you. Situated nearby both the larger city of Juneau and the Tongass National Forest, Sitka is famous for its salmon and halibut fishing. The town also has a whopping 22 sites on the National Register of Historic Places.
5. Carmel-by-the-sea, California
Carmel-by-the-sea is not only one of the prettiest small towns in America, it's also one of the most dog friendly as well. Both Carmel Beach and Carmel River Beach are dog friendly as are many of the gorgeous hotels across the town as well. When it comes to architecture, think European-style cottages brimming with art galleries and local boutiques.
6. St. Augustine, Florida
Founded in September 1595 by a Spaniard, St. Augustine is the longest continually inhabited, European-founded city in the United States. Commonly referred to as the oldest city in the U.S., St. Augustine shows off its Spanish roots with brick streets, colonial architecture, and 17th century architecture.
7. Harpers Ferry, West Virginia
With just 334 residents, Harpers Ferry's small population coupled with natural beauty easily makes it one of the most scenic small towns in the U.S. Located near the confluence of the Potomac and Shenandoah Rivers, the surrounding Harpers Ferry National Historical Park is a natural sight to behold, especially in the fall. It's also a bustling small town thanks to its location along the well-trodden Appalachian Trail.
8. Cape May, New Jersey
While the west coast might get most of the whale watching fanfare, New Jersey's Cape May is known for not only excellent whale watching from March to December, but it's also a national treasure for bird watching as well. Another stand-out element of the small Jersey town is its classic beachy flair alongside cultural attractions like annual jazz and film festivals.
9. Houghton, Michigan
Nestled in Michigan's Upper Peninsula, Houghton boasts the stunning Isle Royale National Park that's full of scenic adventures for backpackers, hikers, paddlers, and divers alike. Outside of its beautiful natural areas, Houghton also offers eclectic dining options alongside a variety of outdoor apparel boutiques to outfit adventurers of all experience levels.
10. Deadwood, South Dakota
Thanks to the recent HBO series of the same name, Deadwood has enjoyed a resurgence in notoriety these days. The small town tucked into the foothills of the picturesque Black Hills, Deadwood is brimming with hotels, casinos, and even reenactments of the shooting of Wild Bill Hickok that took place there in 1876.
Wrapping Up
While these charming small towns are some of our favorites, this is far from a complete list of all of the best small towns in America. There's also Boonville, California known for its boho vibe in California's wine region and even Ketchum, Idaho that's an outdoor adventurer's paradise in the state's Sun Valley.
Whether you're ready to buy a home for sale, are interested in scooping up a foreclosed property, or just want to rent in a scenic small town for a while, we've got the listing for you. Start searching today!