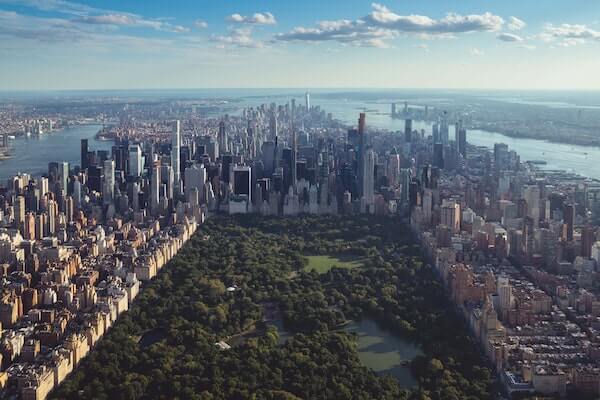 New York is America's fourth-largest state, with a population of 19.4 million, for a good reason. The Empire State stands tall as a business, innovation, and cultural center attracting people from all walks of life. To succeed in New York is a goal for many. As the Frank Sinatra song says, if you can make it in New York, you'll make it anywhere.
Whether you're coming from another state or another country, here are some of the top reasons why you should move to New York State.
1. The Big Apple
Most people move to the Empire State because of New York City. It's a badge of honor to be able to claim that you live (or once lived) in the Big Apple. Why? Because it's one of the greatest cities in the world. From "Breakfast at Tiffany's" to "Sex and the City," the city that never sleeps occupies a special place in pop culture. New York has the stuff dreams are made of – economic opportunities, world-class universities, culture and arts, innovation, diversity, and so much more.
2. Abundant Job Opportunities
New York State's GDP is a staggering $1.5 trillion, comparable to Canada's GDP. The state's leading industries include financial and professional services, health care, and technology. While most of the big companies are based in the Big Apple, don't overlook opportunities in other parts of the state. In NYC, top employers include Citigroup, Pfizer, JPMorgan Chase & Co., Philip Morris, and PricewaterhouseCoopers.
The state capital of Albany is the core city of Tech Valley, which spans more than 250 miles north of New York City all the way up to the Canadian border. Tech Valley companies focus on biotech, nanotechnology, and life sciences. This economic hub covers the Adirondacks and North Country, Hudson Valley, and Mohawk Valley.
3. Top-Ranked Universities
The Empire State is home to 252 colleges and universities (total enrolment: 1.2 million students), including two Ivy League schools: Columbia University in New York City and Cornell University in Ithaca. The state's other nationally ranked educational institutions include New York University, Vassar College, Fordham University, Sarah Lawrence College, and the University of Rochester. The United States Military Academy, based in West Point, is one of the world's oldest and most prestigious service academies.
4. Diverse Population
New York has always been a melting pot of culture, especially between 1892 and 1954, when about 12 million immigrants were processed on Ellis Island. Today, immigrants account for nearly one-quarter of the state's population and more than one-fourth of its labor force, according to the American Immigration Council. It's fitting the United Nations headquarters is located in New York because the state embodies diversity and internationalism.
5. Culture, Arts, and Entertainment
Broadway, a street that runs from the north to the south of Manhattan, is synonymous with American theater. New York's theater district has produced some of the world's most popular musicals, including Show Boat, Oklahoma, and Hamilton.
The state's music scene is expansive. In NYC, the Lincoln Center, Metropolitan Opera, and New York City Opera are the premier destinations for fans of classical music. In Upstate New York, you can catch chamber ensembles at the Troy Music Hall, Tarrytown Music Hall, and Buffalo's Kleinhans Music Hall.
Looking for a good museum? There are 100 museums in New York City alone, including the Metropolitan Museum of Art, the Museum of Modern Art, and the American Museum of Natural History. Plus, there are many great regional museums to explore throughout the state.
6. Passionate Sports Culture
Sports fans in the Empire State have plenty to root for, beginning with the New York Yankees, considered baseball's greatest team. The team has the most World Series titles at 27. The Mets, New York's other Major League Baseball team, have won the World Series twice. Other NYC teams include the Knicks (NBA), Rangers and Islanders (NHL), NYCFC (MLS), Giants and Jets (NFL), and Liberty (WNBA). The Buffalo Bills (NFL) are based in Orchard Park while the Buffalo Sabres (NHL) play at the KeyBank Center. Many cities throughout the state are also proud homes to amateur and semi-professional teams. No matter where you put down roots in New York, you'll have a team to cheer for.
7. Historical Legacy
New York's history is full of illustrious figures. Four state governors went on to serve as U.S. presidents: Martin Van Buren, Grover Cleveland, Theodore Roosevelt, and Franklin D. Roosevelt. Two trailblazers in women's rights are associated with New York – Susan B. Anthony started the women's suffrage movement in Rochester, and Margaret Sanger, a New York native and advocate for women's reproductive rights, opened the first birth control clinic in Brooklyn. Frederick Douglass, an escaped slave, published the abolitionist newspaper The North Star in Rochester.
8. New Yorkers
New York residents have a distinct personality and spirit – there's such a thing as New York Tough. Whether it's living with epic winters Upstate or surviving America's worst terrorist attack in the Big Apple, New Yorkers have always shown grit. They are pragmatic, competitive, efficient, resourceful, and resilient.
Out-of-towners sometimes mistake such traits for rudeness or hostility, but those who stay long enough understand why New Yorkers avoid eye contact in the subway (staring increases the discomfort of being jam-packed in a tight space) or why Upstate residents hunt those "cute" deer roaming around (there's overpopulation).
9. Natural Beauty
The Big Apple's bright neon lights can make it hard for the natural beauty of the state to shine. When it comes to the outdoors, some of New York's must-see destinations include Niagara Falls, Catskill Mountains, Hudson Valley, the Finger Lakes, the Adirondacks, and closer to NYC – the white-sand beaches of Long Island.
10. World-Class Eats
New York's sterling culinary reputation can be attributed to its diverse population. The state is known for iconic dishes like coal-oven pizza, bagels with lox, lobster Newberg, and Waldorf salad. While NYC accounts for many of those popular dishes, there's plenty of good eating outside the city, too. We can thank Buffalo for inventing the buffalo wings, and Rochester for the unfortunately named "garbage plate." Buffalo is also famous for beef on weck while Utica is known for riggies and tomato pies.
Ready to Call New York Home?
In the end, the reasons why people move to the Empire State are as varied as their hopes and dreams. Only you can decide if it's the right time to make the big move. And when you do, you can start spreading the news that you'll soon be part of good old New York.
Ready to make New York your home? Homefinder can help you find homes for sale in New York, along with rentals and rent-to-own properties that fit your budget and style.