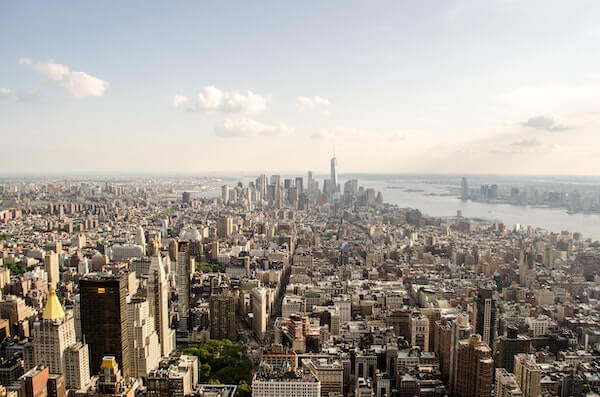 While COVID-19 has brought the whole world to a standstill, its U.S. impact has been felt hardest in New York City. With an overall population density of about 27,000 residents per square mile, the hustle and bustle that makes NYC such a high-energy mecca for business and creative types has also made it particularly vulnerable to the pandemic.
The outbreak has seen a new kind of hero emerge in healthcare workers who are applauded citywide night after night. It has seen the closure of schools, restaurants, and sporting and entertainment venues. It has seen businesses reimagined for long-term work from home. Now, as legendarily tiny New York apartments become 24/7 live/work/play spaces, what has happened to the hard-driving NYC real estate industry -- and what does the future hold?
Can Technology Save NYC Real Estate?
Before the onset of the pandemic early this year, the New York real estate market was unusually strong, a state of affairs that continued after the first cases were reported. That all changed on March 20th, when Gov. Andrew Cuomo ordered a lockdown of all non-essential services. This directive threw the NYC real estate market into uncertainty, with agents and brokers forced to work from home, managing active listings, fielding client inquiries, and getting up to speed on a rapidly shifting New Normal.
On March 22, the New York State Association of REALTORSⓇ began advising real estate licensees to work from home until the lifting of the state of emergency. This meant that services like in-person listings and showings as well as unsolicited phone calls to consumers were, and still are, prohibited. To further help agents and brokers in this new way of work, the Real Estate Board of New York offered extensive guidance on how to implement escrow or virtual closings in accordance with the directives of the governor.
In this period of transition, many New York brokerages have adopted digital platforms for transaction management, marketing, and more. IGTV, Facebook Live, and YouTube have become hubs for virtual tours and open houses. In lieu of the traditional house tours, many landlords and agents have now pivoted to existing proptech like Matterport to create 3D home tours.
According to Warburg Realty broker Claire Groome, most deals that are currently in process are those, "in a new development that someone knows well or an apartment that someone has visited pre-lockdown." Few of her luxury clientele are willing to go all-in on a new home without an in-person visit.
As agents and brokers learn to navigate market conditions and an increased reliance on technology, the future looks bright for an active summer market, with pent-up demand and shifts in consumer preferences to larger spaces with more outdoor features. In addition, the hard-driving real estate professionals in the market will further hone online transaction management, making it more seamless and client-friendly than ever before.
Your Home Is Now Your Office, School, and Restaurant
While many New Yorkers no doubt chose a smaller residential footprint to save money, that was the tradeoff for living in a "city that never sleeps." That is, if you're always at work or out and about socially, what does it matter if you live in a shoebox? Then came quarantine.
With the effective lockdown of the city, many residents now place a different value on their home's space. Staying inside for a month or more, especially with families, pets, and roommates, makes the need for space and comfort more apparent. The home, post-COVID-19, is suddenly a school, an office, a playground, and, most of all, a haven.
According to Groome, "There will be buyers looking for good deals out-of-the-gate when the market opens up. I have heard from clients that the more renovated the apartment the better, since many are concerned about how long it will take for the buildings to allow contractors in."
By contrast, the commercial real estate sector anticipates a host of new challenges as the market for office space shifts significantly. The effects of working from home are poised to see commercial real estate brokers and commercial property managers losing more ground than their residential counterparts.
According to Amol Sarva, Co-founder and Managing Partner of Knotel, the effects of the pandemic on commercial real estate could be long term. He explained that many office environments require the use of recycled air and partitions. Demand for these spaces will change, driven by people opting to forego co-working spaces and commercial offices in order to minimize possible infections and exposure.
Anticipating Changes in Home Design
As consumer demand returns to the New York residential real estate industry, those who are interested in changing up their space post-COVID-19 will be looking to own homes and properties in places where a healthy lifestyle is affordable. Reduced commuter traffic and more spacious options will drive up demand in many suburban and exurban areas, with an increase in interest from remote workers leaving the city.
For households with multiple work-from-home parents and homeschooled children, technological infrastructure will be paramount. In addition, open-concept living spaces may give rise to a need for more private areas to facilitate separate Zoom meetings and quieter work environments. Outdoor spaces are expected to command a premium, offering both a change of scenery and a place for play.
Groome also sees a shift in consumer demand, saying, "I do hear from clients that were looking at larger apartments mention the sudden appeal for the townhouse life. There is something very appealing about not sharing an elevator, having a home gym, a basement, and also a private yard to enjoy."
Groome adds, "The NYC market will pick-up and those who can't or won't leave will make purchases which I believe, for many, will be driven by the difficult life in quarantine where the spaces that their families have been living-in have simply been outgrown."
Virtual reality and online productivity platforms are set to experience a boom as virtual tours, online document preparation, and electronic closings become the norm.
Looking at the NYC Real Estate Market Through a Wider Lens
When compared to other markets across the country, New York's real estate recovery is slower than others. According to a study from UrbanDigs, only 160 contracts were signed in New York City in May 2020. That's an 84% decrease when compared to the 992 that were signed in May 2019.
But what's happening in New York City is not indicative of what's happening across the rest of the country. As real estate consultant Mike Del Prete notes in a recent, the New York market was hit harder by the virus, causing the housing market to fall harder and rebound slower. Other markets, such as Austin, Texas, weren't as affected and as a result, are seeing a faster recovery.
In addition, Chicago and Philadelphia are two large metros that have actually improved the number of listings and sales when compared to the pre-COVID market. It will be interesting to continue to follow the large metros and see how fast they respond to the reopening of the economy that is scheduled to continue throughout the summer.
New Yorkers Will Adapt for the Future
Just as in so many crises in the past, real estate as an industry will prevail, changing and adapting while remaining more important than ever. As New Yorkers get used to this newest New Normal, real estate will lead the way, developing promising new paradigms and meaningful solutions resulting in a return to their pre-COVID sales numbers—perhaps even beyond.