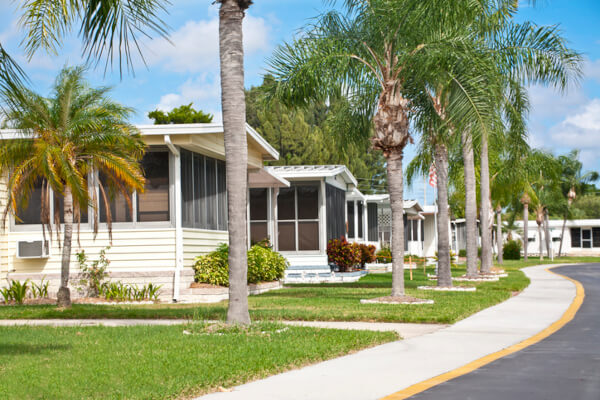 As Airstreams blast back into fashion and #vanlife takes over social media, it's no wonder that beautiful mobile home communities designed to cater to those living a nomadic life are popping up across the country — especially in warm weather locales like Malibu and the greater Orange County in sunny southern California.
Curious about how mobile home communities work in California? Want to know where to find the best of the best? Here's your guide to resident-owned mobile home communities in California.
What are mobile home communities?
Mobile home communities can vary a bit, but generally they're plots of land zoned as residential developments that are designed to house mobile and manufactured homes. These communities are often called different names like mobile home parks, land-lease communities, manufactured home parks, and the increasingly outdated notion of a trailer park.
Some of these communities offer land for rent. Others, called land-owned mobile home parks, offer land for purchase. This is the key difference to consider when buying a mobile home for sale in California, or anywhere else, really.
What are land-owned mobile home parks?
In land-leased communities, residents own their mobile home but rent the land they park it on. Each agreement is different, but in many instances the lot rent will cover lawn care, water treatment, and the use and repair of community amenities like playgrounds. The fancier the community, the higher the lot rent, but ritzier communities tend to offer more luxury amenities for residents to enjoy.
Land-owned mobile home parks (sometimes called resident-owned communities), on the other hand, are communities in which you purchase the land that comprises the lot where you park your mobile home, Airstream, or van. Even when you live in a land-owned community, you might still be required to pay a (smaller) monthly maintenance fee for community amenities like pools and such.
What to know about buying a mobile home for sale in California
Besides the general considerations of whether or not you want to buy or lease your lot, if you're buying a mobile home in California you should get familiar with the law first.
California's Department of Housing and Community Development regulates mobile and manufactured homes in the state. Buyers will want to focus on the regulations that concern the ownerships of mobile homes and mobile home parks. Specifically, you'll want to become familiar with the protections that the department outlines for mobile home owners in the state in case you run into any issues with entities from manufacturers to the owners of mobile home parks.
Lastly, it can be more difficult to find a lender to finance a mobile home purchase compared to the purchase of a traditional home. Lenders who finance mobile and manufactured homes are out there, you just might have to search a little bit harder.
The best mobile home parks in California
It's no surprise that California is a popular designation for mobile living. Especially in southern California, the weather is glorious all year long. There are also plenty of other people living the same kind of lifestyle as well.
Many mobile home communities are designed with the 55+ community in mind, but there are still plenty of options for younger renters and buyers as well. Here are some of the best mobile home parks in California to get your search started:
Wrapping Up
Haven't found what you're looking for here? Maybe you're interested in living somewhere that isn't California — perhaps Orlando, Florida or Austin, Texas? We're your one-stop-shop for your country-wide mobile home community search.