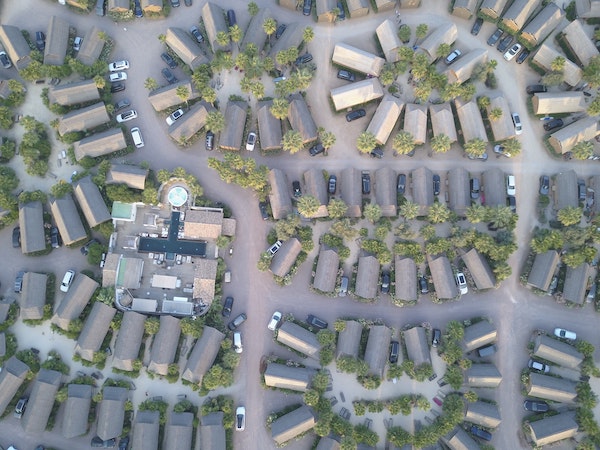 Some properties, especially condos and planned neighborhoods, fall under a homeowner's association, or HOA. Before purchasing a home that falls under the jurisdiction of an HOA, buyers should be clear about what exactly the organization is and what they should expect to experience as a resident.
Use these helpful insights on HOAs to decide if an HOA property is really right for you.
What is an HOA?
HOAs are run by a committee of resident homeowners that oversee the community – and with over 40 million households falling under the jurisdiction of an HOA across the country, you're likely to encounter some during your home search. The HOA takes care of maintenance, repairs, and improvements in the common interest of the community. Homeowners in the community elect the HOA's board of directors who run the association.
HOAs have two primary functions: they charge fees to fund community upkeep and establish the set rules and bylaws of the community.
HOAs Charge Fees
One of the biggest considerations that buyers should keep in mind when they are contemplating buying an HOA property is the additional financial responsibilities. HOAs charge fees and dues at the time the property is purchased as well as while you are a resident. The money charged is used to maintain the community and fund any repairs or upgrades.
Buyers will want to be prepared to add HOA dues into their home buying and homeownership budgets.
HOAs Set Community Rules
In addition to the increased costs charged to residents of HOA communities, homeowners are responsible for following the rules set by their HOA.
Residents under an HOA may be limited to what they can and cannot do with their property in terms of aesthetics and usage. For example, residents may not be able to make unapproved exterior changes to their home or list their property as a short-term rental.
Before deciding to buy, buyers should always be clear about the rules and regulations imposed by an HOA and make sure that they are comfortable with complying.
What Kind of Fees Does an HOA Usually Charge?
Since the fees vary greatly between associations, buyers should speak with the HOA about their specific fees and dues for an accurate understanding of what they will be paying. Here is an overview of how HOAs typically charge their dues.
Upfront Costs of the HOA
Buyers who are purchasing a home that falls under an HOA will often have to make a payment to the association at the time of closing. This will be added to the total closing costs that the buyer is responsible for, along with property insurance, agent fees, and more. Buyers should be prepared to cover this upfront cost when they buy an HOA property.
Continued Costs of the HOA
The monthly dues that homeowners pay to their HOA are used to cover the maintenance and upkeep of the community's common areas, such as lobbies, outdoor areas, gyms, or swimming pools. The amount of money that homeowners pay toward their HOA depends on the amenities provided by the community. On average, homeowners typically pay between $200 and upwards of $2,500 to their HOAs annually.
Some of the most common fees that HOAs charge are landscaping, maintenance, garbage, security, staff, insurance, and parking. In addition to these baselines, any added amenities will increase the HOA dues. Communities that offer many amenities typically charge more than HOAs that only handle the basic operational responsibilities.
Buyers are also paying for the HOA to enforce the rules of the community. Even if your community does not offer amenities, HOA fees would still cover the costs of upkeep and operations.
What's Usually Expected of Residents in an HOA Community?
When you decide to purchase a home that is under the rule of an HOA, you are agreeing to comply with its enforced rules and resident standards. Each association sets its own regulations, so buyers will need to speak with the HOA for a specific list of community covenants. They may be posted on the HOA's website or printed as a memorandum on the property.
The HOA rules may limit:
How tall residents grass can grow
Aesthetic details, such as the color of the front doors and exterior of the home
Repairs, renovations, and property add-ons
Parking usage
Fence height
Landscaping and vegetation around your home
The use of sprinklers and fertilizers
The owner's ability to rent out the home
In short, residents of an HOA should be prepared to fully comply with the CC&R's of the community. This may limit what you can do with your home and how you use it, so it's important to be clear about what you are agreeing to before you decide to buy the home.
Pros and Cons of Buying a Home with an HOA
Living in an HOA community comes along with pros and cons, and buyers need to consider both when determining if this is the right option for them. Here is a short list of the benefits and drawbacks of purchasing an HOA property.
7 Benefits of an HOA
HOA communities are generally cleaner, well-kept, and equipped with added security and safety compared to neighborhoods without an association.
Homes typically see more stable property values since the surrounding homes are upkeeping the same quality standards set by the HOA.
HOAs give residents access to exclusive amenities that are overseen by the association.
HOAs handle disputes between neighbors in case an issue arises.
HOAs sometimes plan social events and gatherings for the community so you can get to know and spend time with your neighbors.
Residents can attend HOA meetings to make requests and learn about the newest decisions being made by the board of directors.
Since the community is maintained by the association, residents have lessened upkeep and maintenance responsibilities. This can also reduce the costs associated with these homeownership tasks.
7 Drawbacks of an HOA
HOA dues are not tax-deductible.
HOAs charge dues and fees that increase the purchasing price of the home, as well as its long-term homeownership budget.
HOAs may limit the freedom a homeowner has when making decisions about their property.
HOAs may limit renovations or add-ons to your home. If you plan to add a deck or a new swimming pool on your property, you may not be able to.
HOA fees are variable and open to change. Speak with the specific HOA to learn more about its policy with increasing fees and dues.
If the HOA performs a property inspection or decides to plan a project to improve the community, such as replacing the HVAC, residents are subject to paying additional fees. Since the timing of these community improvements is not decided by you, they may come at an unexpected time.
The HOA may be severe about sending out infraction notices, charging fees for improper behavior, or reprimanding residents. Buyers should learn more about the individual reputation of their community's HOA to see if there have been complaints or issues in the past.
Find a Property That Meets Your Needs
Depending on what you need and want in your next home, an HOA property might be a great fit for you. Keep these considerations in mind as you explore potential homes. If you're ready to begin browsing properties for sale all over the country, see what HomeFinder's online listing portal has available today.