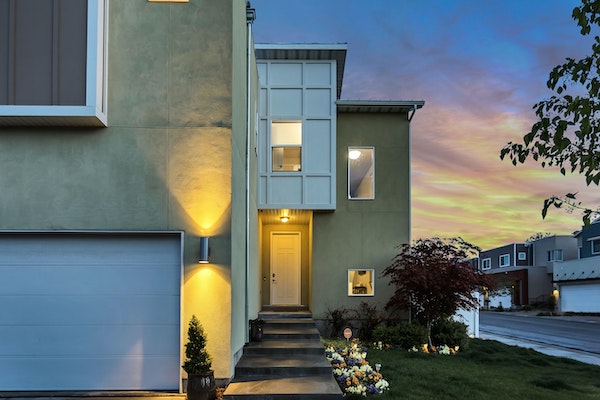 Buying a home is never something to take lightly. Like any real estate transaction, there's so much to gain — but there's a lot to lose if you make the wrong moves. It's imperative that aspiring buyers are navigating the housing market with best practices in mind.
This is especially true today, as low inventory and high demand have buyers making fast offers on what's available to them. House hunters who are distracted by what they do want risk overlooking what they don't want.
As you browse homes for sale, keep an eye out for these 5 key property details to minimize the chances of finding out surprising information later on in the process.
Structural Considerations
The basic structure of a home should be the top consideration when choosing a home. Buyers who overlook structural problems are inviting big losses in the future. Not only will structural issues cost homeowners money, but they will also severely tarnish the experience of buying a new home.
How to Spot a Structural Issue
The most important structural considerations to keep in mind deal with the home's fundamental elements. Making sure there are no issues with the roof, the foundation, the exterior, the insulation, or the presence of pests are some of the most important things to look at when considering a home.
Buyers can avoid taking serious action on faulty listed properties by looking out for telltale signs of structural problems. Sloping floors, uneven tiling, unsealed openings to the exterior, sagging ceilings, visible cracks in the foundation, and signs of insect activity should all be taken seriously.
The cost to repair structural problems is often significant – according to HomeAdvisor, the typical range for roof replacement costs is between $5,100 and $10,000. Since you likely won't see the roof, ask questions. Inquire about how old the roof is and for proof of the last inspection to gain further insight.
Mold and Water Damage
Water damage is more common than you might expect – it's estimated that about 14,000 people in the U.S. experience a water damage emergency each day. It can destroy a home's foundation from the inside out — making it a sneaky enemy for home buyers. Besides the stress and inconvenience, fixing water-related damages and the presence of mold can cost buyers hundreds to thousands of dollars.
6 Things to Look For
Buyers should be keeping an eye out for sagging ceilings, water stains, moldy smells, suspicious discoloration, uneven floors, and leaking. These may be able to alert buyers to lurking issues behind the surface.
Buyers who are suspicious of the presence of water damage should always seek expert opinions from inspectors – it's never something to ignore.
Plumbing and HVAC Quality
Water and air are essential, making plumbing and HVAC key aspects of a good and healthy home.
Buyers never want to overlook problems related to plumbing or HVAC for two reasons. One, these issues won't make your life easier. Who wants to struggle with a chronically clogged drain or an unreliable AC unit? Two, fixing these issues is expensive. It can cost thousands to replace or fix plumbing and HVAC problems – even simple repairs cost between cost between $150 and $450 on average.
Home inspections will reveal issues revolving around plumbing and HVAC, but why wait until this stage of the buying process to learn about these red flags?
Pay Attention to Indicators of Damage
Fortunately, there are things that buyers can keep an eye out for that may reveal the presence of issues in the home's major systems.
Buyers should examine the HVAC system, keeping an eye out for rust, water damage, noise, and visible breakdown. When it comes to plumbing systems, check for leaks, discoloration around sinks and toilets, and the condition of the water heater.
If you come across any of these, it might be a sign that the home's plumbing and HVAC systems aren't in the best condition — in which case you should move forward with caution.
Noise: Something Renovations Can't Change
It's common for buyers to overlook a neighborhood's noise level, but this is a big mistake. Noise disturbances can take many forms, and you won't be able to move your new home away from them.
3 Sources of Noise Pollution
Three of the biggest noise-related factors have to do with proximity. The distance between your home and neighbors, busy roads, and travel-related amenities are important to take seriously.
High-traffic roads and busy streets will expose the home to the sound of speeding cars, honking horns, blasting radios, and potentially rowdy pedestrians. Living in tight quarters with your neighbors may put your home in the line of fire for cross-over television noise or booming music. Living near an airport, train station, or railroad tracks means putting up with their non-stop schedules.
If you prefer a quiet life, it's better to be aware of these elements as a prospective shopper than as an active buyer. Remember, noise may not be visible, but its sources are.
The Possibility to Alter Cosmetic Concerns
While it's important to steer clear of issues that cannot be changed, buyers need to keep in mind that there are superficial elements that can be altered.
When browsing homes for sale, you never want to say "yes" to a house that doesn't meet your fundamental needs. But, you also don't want to say "no" to an otherwise perfect listing opportunity just because the owner's decor style did not meet your preferences.
You shouldn't overlook the fact that you can alter minor aesthetic details that don't fit your tastes. Temporary elements, like hardware, appliances, flooring, paint, furniture, and even the setup of the home can be put on the back burner as long as the necessities are met.
How to Approach Post-Closing Cosmetic Changes
What's important here is not to go overboard with envisioned renovations.
Remember, remodeling is expensive. First-time buyers who aren't experienced with the nitty-gritty details of making changes to a home shouldn't freely be throwing around idyllic fixer-upper projects. Keep in mind that upgrading projects are costly once you move beyond the basic cosmetic elements, like paint and fixtures.
Buyers should always approach these considerations as seriously as possible, mapping out the costs and adding them to your list of buying expenses.
Find Homes for Sale with HomeFinder
You can mitigate your risks by keeping these 5 things in mind while looking at homes for sale. At the end of the day, these considerations are just as important as the property itself, the location, and the price tag.
If you're ready to start your home search process, explore the millions of listings around the country that HomeFinder's listing portal has to offer. Click here to look for homes for sale with HomeFinder.com.