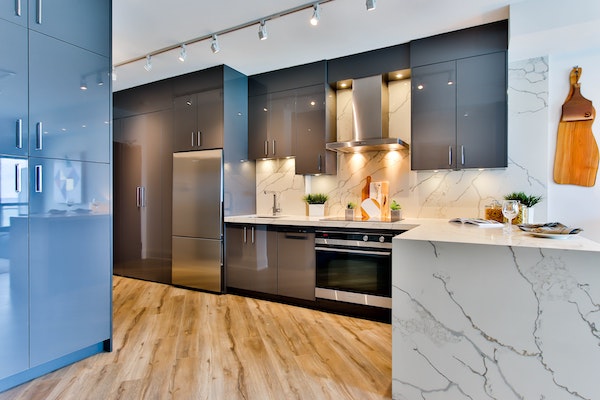 Since house hunting is an emotionally driven experience, tethered to all of our unique real estate aspirations, it's easy for first-time homebuyers to get swept away in all the fun and lose sight of what's most important: strategy.
Buyers who are looking to make smart, informed, and industry-backed decisions need to have a plan in mind as they approach each new step of the buying process. If not, they risk wasting time pursuing homes for sale that don't actually meet their needs — or their budgets.
In order to stay focused — and still have fun — buyers can spend some time getting prepared for what they're about to encounter while house hunting.
Start Off Right With Open House Best Practices
Going to open houses is a common part of the home-buying process.
Open houses can be a great way to see what matters most to you in person. But, if you're not prepared, this can be a missed opportunity — to make a good first impression with the seller, learn about the home, and decide whether the home is a good fit for you and your family.
It's important to walk into an open house prepared, knowing what to do, how to act, and what questions to ask.
Whether you're an experienced home buyer or a novice searching for first-time home buying tips, we could all probably use a 101 course on open house best practices.
Here's what a potential home buyer can do to make the most of an open house experience.
3 Things to Know Before You Go
Preparing for an open house starts when you're still at your own home. Buyers should take the time to think about these 3 considerations before they head to the open houses:
Know the size and dimensions of any of the big pieces of furniture that you plan to take with you, including tables, couches, bed frames, and more.
How the location of the home fits into your family's lifestyle needs, such as how long commutes are, and the distance from metropolitan amenities.
Have a list in mind of your wants, needs, and non-negotiables. Seeing the home in person allows interested buyers to figure out what they'd be able to compromise on, depending on what bonuses the listing has to offer.
Other good ideas to think about before you attend the open house are how this home's initial listing price fits into your home buying budget, and what other comparable options are currently available on the market.
15 Tips for Open House Etiquette
Remember, walking into an open house is walking into somebody's home. Just because they're selling doesn't mean they won't be expecting all guests to be respectful, polite, and mindful.
Besides basic manners, following open house etiquette is a great way to make a strong first impression as a buyer. If you're able to accommodate the basic open house guidelines, you'll appear as a good candidate for doing business.
Be sure to remember these 15 tips for behaving well at an open house:
Comply with any and all protocols for guests that may be in place
Greet the hosts and provide your name, as well as any other requested contact information
Don't bring food and beverages inside of the home
Don't touch things without permission
Don't speak about sensitive negotiations, such as your budget or schedule at this point
Turn your cell phone's sound off
If there's a line to ask questions, wait patiently
Don't be pushy with other guests
Practice social distancing and avoid crowding others
Don't bring the kids or pets
Avoid any distractions that will bother you, the seller, the agent, or the other guests
If you're not clear about how to do something, ask
Don't eavesdrop or butt into other guests conversations
Ask before you start taking pictures or videos
Say "thank you!" and goodbye to the seller and agent on your way out
A general rule of thumb is to stay kind, polite, and lightly engaged. The open house isn't a private showing just for you, so you need to respect boundaries and not eat up all of the host's time — while still managing to get the information you need.
Be Ready to Ask Plenty of Questions
Walking into an open house and meeting the seller and their agent is an amazing opportunity to ask some important questions.
When you plan to attend an open house, know what questions you should ask ahead of time. This way, you won't leave having forgotten the most important thing you had to say.
Here are 10 questions to ask at an open house:
How long has the home been listed on the market?
How old is the home or building?
Are you currently living here, or is it vacant?
If it is vacant, for how long has it been empty?
If they're living there, when is the moving timeline?
Why is the seller choosing to sell the home?
Has the home had any issues?
What work has been done on the property?
Has the home been tested for common hazards such as mold, radon, lead, or asbestos?
How much do utilities typically cost?
Know What Red Flags to Look For
Walking around an open house gives buyers the chance to get an up-close-and-personal look at the reality of the property. You'll get to see both its best and its worst — and buyers should be prepared to look at both sides of the coin.
When it comes to the negatives, keep an eye open for these 5 red flags:
Spots or stains in the ceiling — a sign of water damage.
The condition of the home's openings, such as windows and doors — which makes a difference in how well the home keeps the outdoors, outside.
Cracks or holes in the walls or ceilings —usually indicative of foundation issues.
Low water pressure when you turn on the sinks
Any place that would potentially need to be renovated if you were to buy this home
10 Things to Bring With You
Bringing these 10 things with you will help you navigate the open house with ease:
A tape measure and a ruler
A small notebook and pen to jot down notes and information
Personal protective equipment, such as face masks, gloves, and face guards
A good pair of socks
A bottle of water — but be careful not to spill!
Your business card to connect with the seller or agent
Hand sanitizer
A small flashlight — or your cell phone light
A copy of your mortgage pre-approval letter, in case you love the home
Your list of questions and things to remember
3 Things to Remember
Scout out the competition.
Keep an open mind.
Have fun!
Enjoy the house hunting process by perfecting your open house protocols for visiting homes for sale.
If you're ready to take the first steps, find your new home on HomeFinder.
If you enjoyed these first-time home buying tips, see what else we have to offer by reading through articles by HomeFinder.