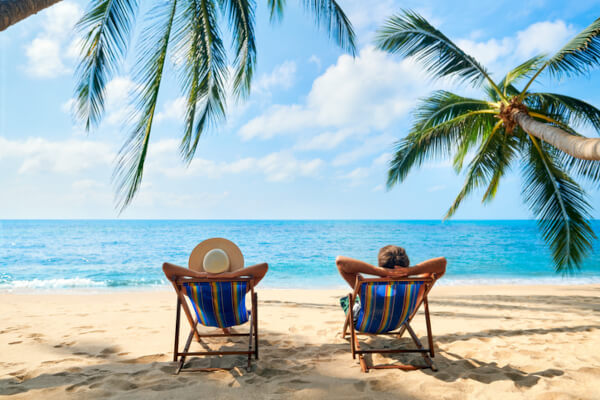 Some people (here's looking at you skiers and snowboarders) love and live for winter, making snowy cities like Denver home. Others don't consider winter sports at all and make chilly cities from Minneapolis, Minnesota to Burlington, Vermont home for other reasons like family or Minnesota's signature 10,000 lakes.
They key to living in a snowy city if you don't like cold winter weather? Snowbirding!
What is a snowbird, you ask? It's someone who leaves a colder climate for a warmer one during the winter. Escaping to a city in a warmer climate for a couple of months not only avoids the depths of winter, but satisfies a travel itch, too.
Sounds amazing, right? The only thing you have to figure out, then, is where to go. Where are the best places in America for snowbirds to winter?
Of course there's places like Maui or San Diego that are infamous for their warm weather year round, making them popular snowbird destinations. But there are plenty of other places to escape to, too. Some cities might not make the best snowbird destinations list that comes to mind for most people, but there's a major upside to them: These less-traveled cities are usually (at least a little bit) more affordable.
If you're ready to leave winter behind, here are some of the best snowbird destinations across the U.S. that lend themselves to snowbirding on a budget.
1. Boca Raton, Florida
If you're looking for the best places for snowbirds in the United States, Boca Raton is one of them. With average temperatures hovering around 74 degrees between October and March alongside more than 20 miles of beach, Boca Raton is an excellent winter escape for snowbirding in Florida.
2. Honolulu, Hawaii
What about snowbirding in Hawaii? No list of the best snowbirding destinations would be complete without a Hawaiian locale on it, and our choice is Honolulu. Wouldn't you rather be hitting the sun, sand, and surf-filled beaches of Waikiki instead of shoveling your sidewalk? Honolulu is also a great jump off spot if you want to spend part of your winter in a more exoctic location like Indonesia.
3. Gilbert, Arizona
Just 30 minutes south of Phoenix proper is Gilbert, a suburb that has become popular with the golf-loving snowbird community. While Gilbert is home to over 300 golf courses, there's plenty of other ways to spend your time in the city, too (think hiking, horseback riding, birdwatching, and more).
4. Mount Pleasant, South Carolina
When it comes to snowbirding in South Carolina, consider Mount Pleasant. This charming town is brimming with piers, parks, and southern barbecue. Architecture lovers will enjoy it here, too, thanks to iconic rows of pastel Georgian rowhouses to take in.
5. Jupiter, Florida
For affordable snowbirding destinations, look no further than Jupiter — especially for older snowbirds looking for an active 55+ community. A good number of the roughly 144,000 seasonal residents who call Jupiter's Palm Beach County home in the winter opt for living in the city's picturesque campgrounds. Not interested in roughing it? There are plenty of cottages for rent, too.
6. Tucson, Arizona
While Tucson might not be the first city most people think of when they think about snowbirding in Arizona, this funky college town brings a unique flair to this list. With roughly 350 days of sunshine each year, this sunny location is also a UNESCO City of Gastronomy which should keep foodies entertained for months on end.
7. South Padre Island, Texas
South Padre Island is the place for snowbirding in Texas. The island bustles with events and activities created especially for snowbirds who flock to the island's many condos, beach houses, and even RV campgrounds. With winter temps that rarely sink below the mid-60s, this beachy getaway is growing increasingly popular with snowbirds across North America.
8. Savannah, Georgia
Home to a renowned art college, picturesque southern squares, and even popular restaurants, Savannah has something for everyone looking to snowbird in Georgia. Plus, Savannah is just a couple of hours from Atlanta, which means that big city amenities are just a weekend trip away.
9. Santa Barbara, California
In the winter, Santa Barbara sees just a handful of rainy days a month. Outside of that, the buzzy beach town simmers down during the winter to provide a relaxing escape for snowbirding in California. The best part? The city is a great place to see Monarch butterflies on their way down to Mexico during their annual winter migration.
10. Laurinburg, North Carolina
For snowbirding in North Carolina, the less-well-traveled Laurinburg is a top contender. Tucked into the Sandhills region of the state, Laurinburg offers snowbirds a small-town lifestyle with access to larger cities just a short drive away. Golfers will love it, too. There are more than 40 golf courses to choose from.
Wrapping Up
Got an itch to escape for the winter? Start your search today. Whether you're ready to buy a home or simply want to rent for a bit before making a more permanent decision, your perfect snowbird home is out there waiting for you!