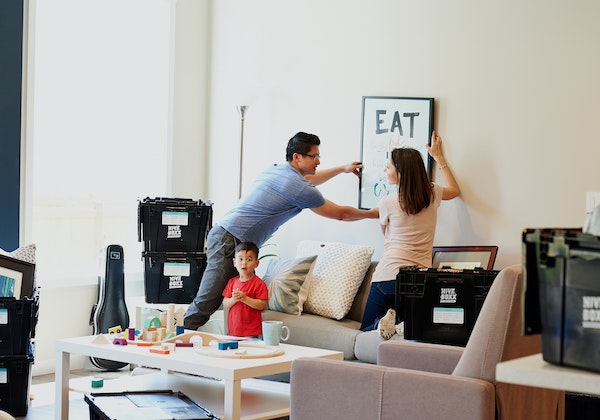 According to NAR's 2021 Profile of Home Buyers and Sellers, the average down payment amount for all homeowners in 2020 was 12% of the total purchasing price. For first-time buyers, the average down payment amount dropped to 7% while repeat buyers put down an average of 16%.
While the numbers do not reflect the more traditional 20% down payment standard, 7% of the home's listing price may be a substantial upfront cost for aspiring buyers. For example, 7% down on a home listed at July 2021's median price point of $359,900 would be $25,193. A down payment at 16%, the median for repeat buyers in 2020, would be $57,584.
Buyers that do not have the finances prepared to pay off a percentage of their home purchase at closing may be wondering if you can buy a house with no down payment, or 0% down.
The answer is yes — but the conditions vary. Depending on the buyer's eligibility, buying a house without a down payment is possible in some cases.
Here's a walkthrough of a few of the options available to buyers seeking to purchase a home with 0% down or a considerably low down payment.
6 Loan Alternatives with Little to No Down Payment Requirements
Loans exist for potential homeowners who do not have the money saved for a traditional down payment through the FHA, USDA, VA, and certain financial institutions. Most of these loans have specific eligibility requirements, so buyers need to understand which options are available to them based on their circumstances.
Here are six of the mortgage loan offerings with little to no down payment requirements.
0% Down with USDA Loans
Buyers can finance 100% of their home purchase if they secure a mortgage from the U.S. Department of Agriculture. Called USDA loans or USDA Rural Housing Loans, this program helps low-income buyers achieve homeownership in rural and suburban areas.
The USDA loan has no down payment requirement and does not maintain a maximum home purchase price. Buyers can also bundle pre-approved repairs and improvements, as well as the loan's upfront guarantee fee, into their final loan amount. However, mortgage insurance is required and charged monthly.
To be eligible for the USDA loan, buyers must be purchasing a home in an approved region and meet the income requirements. Buyers must be near or below the median income for the market they are purchasing a home in.
0% Down with VA Loans
Loans sourced from the U.S. Department of Veterans Affairs also offer full financing for qualifying buyers. The program is available to U.S. military members and their spouses. U.S. military members who spent six years in either the Reserves or serving the National Guard are also eligible for VA funding.
Similar to the USDA loan, VA loans have no maximum loan amount and they do not require down payments. Interest rates for VA loans are preferable and lower than current market rates. Credit score minimums are lenient and derogatory claims on an applicant's credit report do not impact eligibility.
Unlike the USDA loan, no mortgage insurance policy is required. Instead, borrowers need to pay a funding fee that can be bundled into their total loan amount.
3% Down with Fannie Mae's HomeReady Mortgage
Fannie Mae's HomeReady Mortgage is offering buyers low interest rates, potential savings on mortgage insurance premiums, and a 3% down payment.
The HomeReady Mortgage was specifically designed to help multi-generational households gain access to preferable financing terms. One of the most innovative aspects of the HomeReady Mortgage is that it accepts income from all members of the home that contribute to household expenses. This income is combined and considered by the lender when underwriting your loan.
To qualify, borrowers must have a credit score of at least 620, but buyers with credit scores between 620 and 680 can access preferable loan terms. Eligibility is deemed by income and the HomeReady Mortgage is offered by most lenders.
3% Down with Fannie Mae's Conventional Loan 97
Another way to access a 3% down payment is through Fannie Mae and Freddie Mac's Conventional 97 Loan, also called the 97% LTV Ratio.
The Conventional 97 Loan maintains the same credit score requirements as other conventional loans. The maximum loan amount for the Conventional 97 is $548,250 which does not vary by market. Only single-unit homes are eligible for funding, and only fixed-rate interest rates are allowed.
Conventional 97 Loans only require a 3% down payment which may be sourced from gifted funds or donations from a family member, meaning certain buyers may be able to purchase a home without saving for the down payment.
3.5% Down with FHA Loans
Federal Housing Administration loans require a 3.5% down payment for any home across all U.S. markets. Like the Conventional 97 Loan, the down payment can come from gifted amounts as well as through down payment assistance.
The borrower's credit score will determine if they qualify for the 3.5% down payment option. Credit scores at and above 580 gain access to 3.5% down while borrowers with credit scores between 500 and 580 are required to put 10% down.
The maximum loan amount is $822,375 with larger loans exclusive to high-cost markets around the country. Properties purchased with the FHA loan must be the buyer's primary residence. FHA loans require mortgage insurance policies with monthly payments bundled into their regular payments.
Special Offerings from Certain Financial Institutions
Certain financial institutions may also offer special offerings for specific buyers seeking reduced down payments.
To learn more about what's available to you, speak to lenders about your specific needs while shopping for your mortgage to see if they have any programs that may assist you. Or, speak to your real estate agent about your financing needs as they may be able to direct you to a specialty lender in your market.
No Down Payment is Possible, But is It the Best Idea?
With these six options, it's clear that you can buy a home without a down payment if you're eligible. However, is this the best idea? Skipping out on the down payment may invite some drawbacks alongside the benefits.
Let's explore the pros and cons of buying a house with no down payment to help you make the best choice.
Benefits
#1. You reduce the upfront costs of buying a house
Without a down payment, you only have to cover the closing costs of buying the home. This substantially reduces the transaction's upfront costs which can make homeownership accessible to those in tight financial situations.
#2. You have more time to pay off the "down payment" over time
Since you don't need to pay the down payment upfront, that percentage of your home's investment can be paid off over time. Since the "down payment" amount will be bundled into your loan's principal, you can spend more time saving to cover the cost.
Drawbacks
#1. Your mortgage principal will increase
When you do not make a deposit on your home, your mortgage principal increases. This can increase the total cost of your loan while increasing your monthly payment amounts.
#2. Lenders may charge additional fees and higher interest
In cases where lenders charge additional fees and higher interest, skipping out on the down payment leads to a more expensive loan over time.
#3. Mortgage insurance premiums will likely be required
No or low down payment loans typically require mortgage insurance premiums or PMI. This is another expense that will increase the total cost of your mortgage and the monthly payment amount.
If you're ready to start shopping for homes for sale, browse available listings all over the country with HomeFinder.