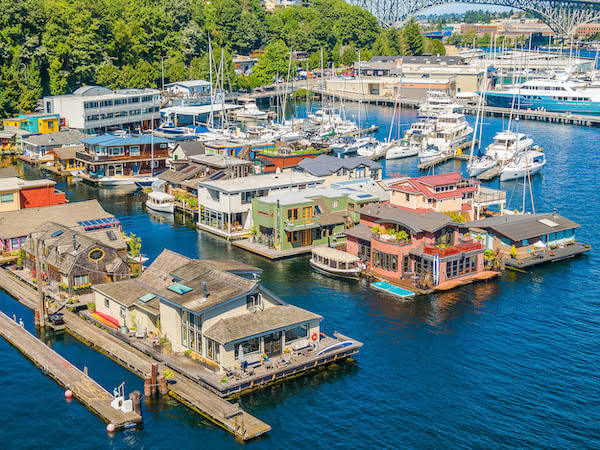 (via Seattle Afloat/ Elevato Visuals)
Seattle's floating home community is always of interest to anyone moving into or visiting the city. These historical and quirky homes are fascinating to explore and it's even more exciting to imagine living in one.
There are currently 520 remaining floating homes in Seattle and they're all located on Lake Union. You can find them primarily in the neighborhoods of Eastlake, Portage Bay, and Westlake, along with a fantastic dock in Northlake. Each dock has its own personality and is ever-changing. The greater Seattle floating homes neighborhood is a hardy community with an eclectic mix of people who all share a love of the water.
Is It a Houseboat or a Floating Home?
Although historically called houseboats for decades, floating homes are more permanently attached than most of their more boat-like houseboat cousins around the city. Floating homes are connected to city power, water, and sewer, and do not have a motor or hull. Their foundations are built on a float rather than dirt, but otherwise, floating homes in Seattle are more similar to land homes than to other types of houseboats in terms of structure. Both houseboats and floating homes enjoy an incredible lifestyle on the lake.
From Humble Beginnings to Charming Communities
While there are many modern floating homes built with concrete floats, most of the homes in the Seattle community are still floating on the old growth-bundled logs from over 100 years ago. They're built on floating log raft foundations with accessory barrels underneath for balance and additional lift.
During the height of Seattle's early timber industry, Lake Union was the center of it all, and giant logs were corralled and floated through the waterways. Many pioneering individuals decided to pillage and raft together some of the loose logs out of the lake to build very affordable (and questionable) housing.
Today, a large number of those original floating homes have been remodeled or taken down to the float and rebuilt. Others have been hauled away and switched for a more modern concrete float of the same size. The historical charm of the neighborhood remains intact and creates a great atmosphere for living on Lake Union.
Is It a Good Investment to Buy a Seattle Floating Home?
Over the years, when the Seattle market has gone up and down, the floating homes market has been steadily increasing in value on its own. This micro-niche market is largely insulated from the overall market because there are only 520 homes and no more are allowed to be built. Anytime someone builds a new home, they're required to build it with the same footprint as the home they're replacing. Because of this "net zero" policy, the combination of low inventory and constant demand from the buyer pool make this an attractive option to consider.
(via Seattle Afloat/ Elevato Visuals)
Thinking About Buying a Floating Home? Keep These Factors in Mind
Buying and living in a floating home isn't like living in your typical neighborhood. It's important to keep these considerations in mind before you begin the home buying process.
What Type of Moorage is Your Floating Home In?
Seattle floating homes are largely condo, fee simple, and cooperatively owned docks today, but there are also some leased docks. Purchasing a floating home that owns the water it's moored in is a more valuable and secure form of ownership.
The city of Seattle has put an equity ordinance in place to help control rents for leased docks, but you should look for a floating home on a dock that's organized into fee simple, condo, or co-op slips for the most control over your space. Real estate taxes also differ depending on the type of dock you purchase on.
You'll Need a Specialist to Navigate This Niche Market
Although they live like amazing waterfront homes, these homes are floating, so an average real estate agent won't have the knowledge and experience necessary to help you navigate this niche market. A specialist will be able to refer you to the right vendors, guide you through the inspections, and help you complete the home bing process. In addition, each dock has its own quirks, and a broker who specializes in floating homes will be able to help you avoid costly and disappointing pitfalls.
A typical lender won't offer a mortgage on a floating home, so you'll need to work with a specialized lender and expect slightly higher interest rates. This is the same for other vendors like insurance agents. Make sure your broker has a list of referrals for you and experience dealing with them personally. Roofers and painters are also specialized choices, as there's the protection of the water to consider. Escrow is closed through a specialty closing agent who has trained extensively and knows the differences for each dock and how they're legally structured.
Price and Location, Location, Location
The location on a dock largely determines the value of the floating home. There are only about 70 end slips among the community and as a result, they're always in high demand. Desirable end moorage homes command prices to match, with one end slip home in 2020 setting an all-time record of $4,500,000. On the flip side, a smaller home in the middle of a leased dock just closed in escrow for under $300,000.
Prices generally start around $500,000-600,000 for smaller homes in cooperatively owned slips and increase from there. Some of the features besides dock location that drive the price up are float size, parking, boat moorage, view, and whether or not there's a rooftop.
Divers Are Your Best Friends
Remember those barrels? When you move into your floating home, you'll likely need to call a diver to level your home unless you're bringing in the exact same amount of furniture and belongings and placing them in the exact locations around the house. The divers move the barrels around and add additional floatation if necessary to level the home. Barrels are used under the logs for floatation with each one providing about 400 pounds of upwards lift. If you decide to bring in heavy furniture or remodel your kitchen with a giant quartzite countertop later on, you'll likely need the home leveled once again.
Divers are also your best friends when your possessions make their way underwater. Make friends with a diver so when that BBQ goes in the water during the next Seahawks game it can be retrieved. Umbrellas and "lawn furniture" typically get blown into the lake along with sunglasses and keys. Have your diver on text and pay them promptly. Also, keep a giant magnet on a string to retrieve your keys because everything does eventually go into "the drink".
Is Living on a Floating Home the Right Choice for You?
It isn't for everyone, this lifestyle, but if you love being surrounded by water and nature and want to be in the city, then this might be the place for you. Space is limited, so a thousand pairs of shoes may not fit in your home. But if you're willing to downsize in belongings and live large in scenery, then you might find this to be a great change in lifestyle. Most people who live in the community fall in love with it.
Ready to find your dream home? Get started by browsing Homefinder's homes for sale today.