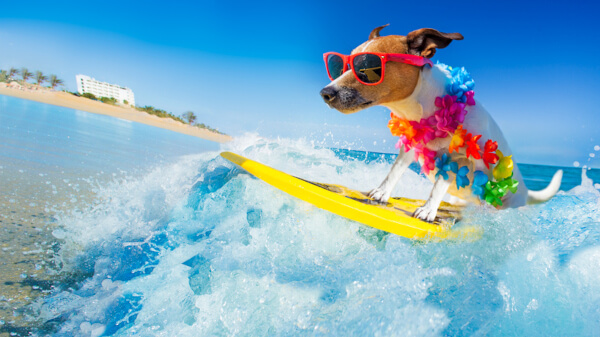 For surf lovers, living near amazing waves doesn't mean relocating to Australia or Indonesia. From California and New York to Hawaii, there are a handful of places to call home in the best states for surfing right here in the United States. The best surf towns to live in dot both the Pacific and Atlantic coasts of the United States.
If you're on the hunt for one of the best places to live for surfing, look no further than these, the best surf towns in the U.S. The best part? Living in one of the best surf cities in the United States doesn't have to break the bank. There are mansion-like surf shacks for sale to be sure, but there are also plenty of affordable options on this list as well. On this list at least, there's truly something for every surfer.
1. Huntington Beach, California
Huntington Beach is one of the best surf towns in the USA. Just southeast of Los Angeles, the Huntington Beach Pier and its namesake Huntington City Beach offer waves on waves on waves for most of the year. Oh, and the U.S. Open of Surfing has been held here since 1959.
2. Cocoa Beach, Florida
Known not so subtly as the East Coast Surf Capital, Cocoa Beach produced one of the country's most famous surfers, Kelly Slater. With outfitters like Ron Jon Surf Shop and Cocoa Beach Surf Company at the ready to outfit even new riders, there are also plenty of surf schools to teach you the skills you need to get started. But that doesn't mean Cocoa Beach is just for beginners. Melbourne and The Beaches offer slightly better breaks and are best suited for advanced surfers.
3. Encinitas, California
While other California surf spots can be polarizing, Encinitas tends to be well-loved by surfers of all stripes. There's surf all year round and the town itself is easily bikeable for when you're not on a board. The best part? The magical waves of Baja, Mexico are just a short drive to the south.
4. Ocean City, New Jersey
Never considered New Jersey when you think of surf towns? Think again. The waves here are filled with aspiring professionals and high schools on the city's well-awarded school team. Plus, for those looking for more affordable surf towns, Ocean City has what you're after.
5. San Clemente, California
From T-Street to Trestles, there are seemingly endless options for catching waves in San Clemente. From slow and crumbly reef breaks to speedy and hollow beach breaks, there's something for every kind of surfer in this California surf town. Outside of the water, this Orange County enclave offers shopping, hiking, and restaurant opportunities galore.
6. Honolulu, Hawaii
One of the best things about Honolulu is that it offers warm water surfing for most — if not all — of the year. The city's northern breaks boast stronger, larger waves while the gentle rollers that comprise Waikiki offer a much more relaxed option for catching a wave. From Ala Moana Bowls to Sunset Beach and the massive Banzai Pipeline, the options seem almost endless.
7. New York City, New York
Talk about the best surfing cities — New York really has it all. It's a bustling global city that's just a short drive away from Rockaway Beach and its numerous surf breaks. Located in Queens, Rockaway Beach is not only dotted with legal surf spots, but is also filled with plenty of restaurants and shops as well. But the Rockaways aren't the only option for surfing near New York City. There's Long Beach, Montauk, and Fire Island, too.
8. Kill Devil Hills, North Carolina
Located along the tiny strip of land that composes North Carolina's Outer Banks, Kill Devil Hills is an adorable surf town to call home. Especially when summer rolls around and the waves get wicked, the small town swells with visitors. But as the temperatures drop, it goes back to being a perfectly removed and affordable surf city in the United States.
9. Santa Cruz, California
Tucked along California's central coast, Santa Cruz has that laid back California lifestyle that so many people seek in a surf town. With soft, sandy beaches and consistently breaking waves, there's a reason that Santa Cruz is nicknamed "surf city" — this California town offers surfing options for shredders of all levels.
10. South Padre Island, Texas
Believe it or not, there's a Texas city on this list! While South Padre Island might be best known for drunk college kids on spring break, South Padre Island's Texas Gulf Coast location opens it up to waves more consistently than most people might think. From Isla Blanca Beach Park to Dolphin Cove and Barracuda Cove, there are nearly a dozen surf breaks one after the other on South Padre Island.
Bonus: Malibu, California
For surfers looking for luxury living in the surf town of their dreams, Malibu is just the place. Not only is Malibu home to dozens of beaches, it has a surf culture that's truly its own. This is one of the only surf cities in the United States where, thanks to its proximity to Hollywood, you might shred next to a movie star or rock star. House prices are steep, but the views and the climate are hard to beat.
Wrapping Up
These are some of the best surf towns in the United States, but they're far from the only places to live to catch some waves in the U.S. Maybe Orlando is more your speed — it's just a short drive from Cocoa Beach. Maybe you'd rather live in Temecula near the Santa Ana Mountains and drive to the beach when there are waves.
Whatever you're looking for, whether it's a house, apartment, or rent-to-own situation, your next home is just a search away.