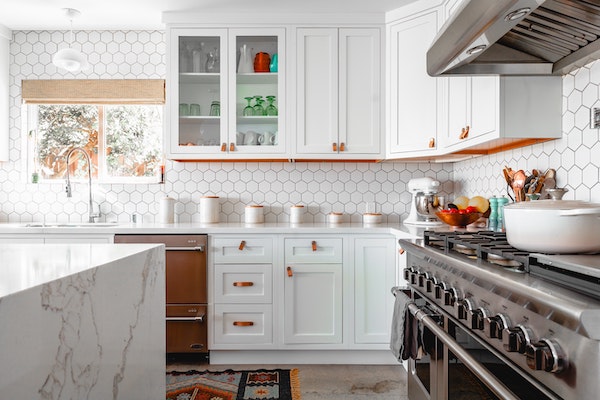 As a first-time homebuyer, adding value to your property is always on your mind. You'll likely be looking to move to a larger property in the future, so ensuring your home sells for a good price is essential – and renovating your first home can be a great way to add value to it. There are many renovations you can do to increase the value of your home and make it more desirable to buyers in the future.
Here are 8 value-adding renovations for you to consider.
Landscape Your Garden
A landscaped garden isn't only visually appealing – it's a fantastic renovation you can do to increase the value of your home by as much as 5% - 20% depending on your location. People love outdoor dining, so creating a dining area that is simple but functional can be very attractive to a buyer. Trees and other low-maintenance plants can also be a good way to make a simple space look amazing, as can lighting and paving.
Upgrade Your Kitchen
Everyone loves a beautiful kitchen. If yours is looking a little tired, it may be time to renovate. Kitchen renovations can seem arduous and expensive but are often much simpler and cheaper than you'd think. You don't need to replace the entire kitchen to achieve the desired results – cabinets are easy to remove and replace and don't have to cost a fortune. Adding a wooden countertop can also make an enormous difference to the appearance of the space.
Update Bathrooms
Bathrooms start to look grubby and worn over time, even if they're clean. White basins, bathtubs, and toilets show signs of age after a while and may develop a yellowish tint. You'll also need to replace tiles as they show wear and tear. If your bathroom is looking dull and tired, modernizing it will give it a new lease on life. You can also make simple upgrades like replacing the faucet, adding new hardware to your cabinets, or updating the lighting to give your bathroom a simple refresh.
Convert Loft Space
It's rare for people to use a loft space to its full potential. If you have a loft space you only use for storage, it might be time to give the space a new purpose. Since adding an extension to your home is costly and labor-intense, using the space you already have more effectively is often a better solution. Depending on the size of your loft space, you could add an extra bedroom and bathroom. You could even add an extra sitting room with a modular sofa to maximize the space and increase your home's value.
Make Your Home Energy-Efficient
People are more aware of their carbon footprint now than ever before and many are taking steps to improve it. Making your home more energy-efficient can save you money in the short term and increase value in the long run. You can add solar panels to lower your electricity bill and add energy-efficient insulation to make heating your home more cost-effective. Renovating your home with energy efficiency and carbon emissions in mind will make it more attractive to future buyers and increase its value. It's also likely laws will change in the future requiring homeowners to make their homes more energy-efficient, so it's a good idea to get ahead of the game.
Create Built-in Storage
Built-in storage solutions can make spaces look tidier and are often cheaper to install than buying furniture such as wardrobes and drawers. Although the idea of building it yourself might feel intimidating, it's something most people with a little DIY experience can handle. It makes the most of the space you have and allows storage spaces to blend seamlessly into the room. Since storage is something many buyers look for when shopping for a new home, adding it may increase the value of your property. Start with obvious spaces, like under the stairs, and work your way up from there.
Replace Your Windows
No one wants outdated windows – they impact the appearance of your home and don't provide insulation, making it hard to keep your living space at an ideal temperature. Windows need to have good seals to provide the best insulation and soundproofing. Those seals degrade over time and older homes may not have them at all, so it's best to replace them periodically. Double or triple-glazed windows are also much more energy-efficient than single-glazed options. If your windows are looking tired or you notice a draft, it's time to think about replacing them.
Final Thoughts
Any renovation that adds value to your home is an excellent investment. Pick one area to improve, and start small. Energy efficiency has become a hot topic, so this is a good focal point. It's best to work on improving your home over time, so you aren't scrambling to renovate when it finally comes time to sell.
Ready to search for your next home? Browse homes for sale with Homefinder today.