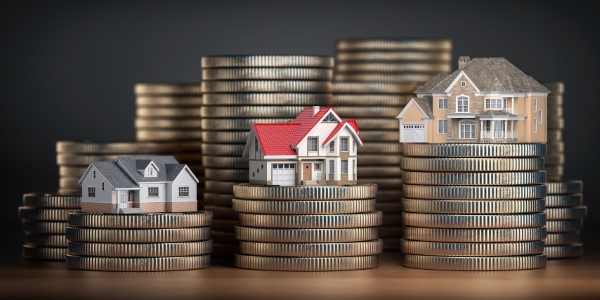 What is My Home Worth?
Learning how to estimate your property value is an essential part of the real estate process. These expert tips will help you come up with a home property value estimate so you know what to expect in the current market.
How Do I Determine the Estimated Property Value of My Home?
According to Joe Gomez from opendoor.com, there are several factors that can influence how much your property is worth. "Your home value is based on what willing buyers in the market will pay for your home, but every buyer is different. For example, some families might place more value on schools and jobs rather than the size or condition of the home."
If you're wondering how to estimate your property value, here are some expert ways to determine the valuation of your home.
1. Comparable Homes
Neighborhood comps are one of the best ways to estimate property value. Used by appraisers and agents, comparable homes are selected based on recently sold homes in the neighborhood and homes with similar features such as number of stories, year built, number of bedrooms and bathrooms, and square footage. Comps should also be situated in the same subdivision, which might have different HOA rules, school districts, and other variables that might affect the value.
Location is also a factor for choosing comps, especially if the home has a unique placement, such as waterfront, a busy street, or golf course. Real estate experts always advise looking for comparable homes that have the same placement.
2. Location
When appraisers are determining the estimated property value of your home, they consider three factors:
location, including quality schools,

job opportunities, and

proximity to shopping, recreation, and entertainment.
Conversely, a home's value can take a hit if the location is near noisy highways or utility lines. In fact, location is just as important the size and condition of a home.
3. Home Size and Usable Square Footage
A bigger home can boost the value, which is estimated by dividing the sales price by the square footage of the home. Keep in mind that garages, unfinished basements, and attics are not typically included in usable square footage. What buyers and appraisers consider important is the amount of livable space such as bedrooms and bathrooms, which have the most value. In fact, according to the National Association of Home Builders, adding more bedrooms and bathrooms to your home can increase its value by 20%.
What Factors Can Affect How My Home Value Changes Over Time?
Over time, the physical structure of a property depreciates while the land it sits on appreciates in value. Understanding the distinction will help you make better choices in the real estate market. Land increases in value over time because there is a limited supply. Robert Stammers, CFA, from Investopedia, advises that you consider how the land appreciation can offset the depreciation of the home over time. Future development can also affect your home's value in the long run, which makes it another factor to consider.
What Does "Home Market Value" Really Mean?
As Robert McTague from Inman explains, the definition of home market value "is an opinion of what a property would sell for in a competitive market based on the features and benefits of that property (the value), the overall real estate market, supply and demand, and what other similar properties have sold for in the same condition." He also points out the major differences between market price and market value: "...the market value, in the eyes of the seller, might be much more than what a buyer will pay for the property or its true market price."
Stay tuned for more expert tips from HomeFinder, the top source for real estate listings, the latest market trends, and much more.